Economic Empowerment

Disability Rights
Article 27 of the United Nations Convention on the Rights of Persons with Disabilities (UNCRPD) unequivocally asserts the right to work for people with disabilities. Yet, the path to economic independence for many Kenyans with disabilities remains riddled with obstacles. We explore why—and what can be done!
Kenya ratified the UNCRPD in 2008, meaning the government has a legal duty to protect and promote the right to dignified work and employment for people with disabilities.
What's more, article 54 of the Constitution of Kenya (2010) mandates that people with disabilities must be a minimum of five per cent of the public workforce – both appointed and elected. 
But there are still many obstacles to economic inclusion. These include pervasive stigma and discrimination in the workplace, limited access to quality education, lack of economic opportunities, and insufficient awareness of the rights of people with disabilities.
The problems pervade both the private and the public sector. Indeed, recent government data reveals that only one per cent of people with disabilities are employed by the government.
Prejudice
Collins Ombajo, a disability rights advocate, shares his journey to secure decent, dignified and meaningful work.
As a person with albinism, Collins experienced first hand the obstacles in his pursuit of economic independence.
"My academic journey began in special schools, designed to cater to my unique needs until I reached secondary school- level two. Transitioning to a regular school was a daunting task," says Collins.
"Finding a school that could accommodate my requirements proved nearly impossible. In those days, inclusive education was a distant dream, and my disability often led to rejection from most schools."
When he was eventually accepted into a local school, he was the only person with disability in a school of nearly 1,000 pupils. Collins was exposed to an environment where the attitudes of both teachers and peers made social interaction a daunting prospect. 
Nevertheless, Collins completed high school and pursued Business Administration at university. During his time there, he worked in a supermarket to support himself. Continuously, he had to prove that he could excel at the job, aiming to challenge preconceived notions about his capabilities.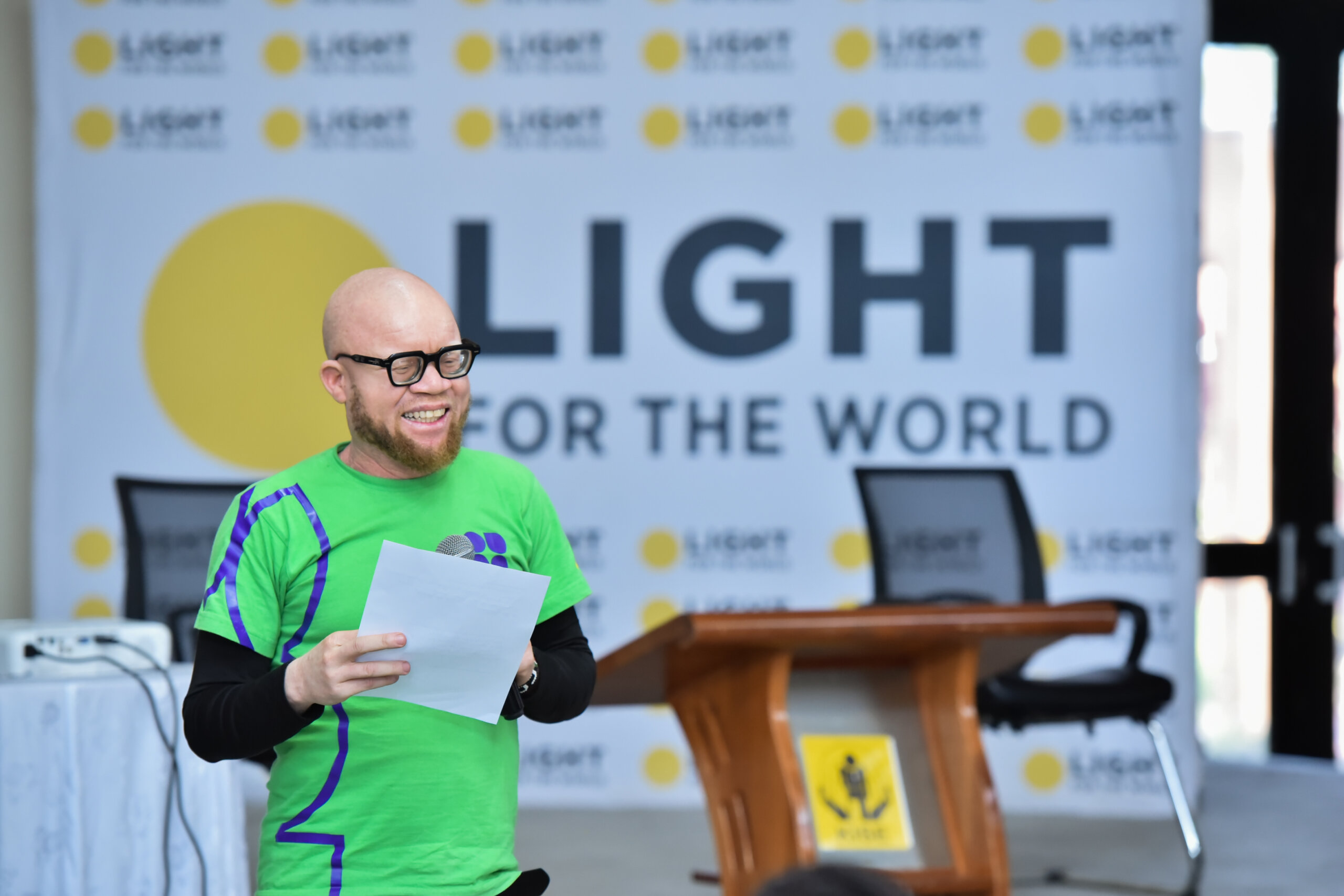 Reflecting on his journey to decent work, Collins recognises that prejudices continue to limit the acceptance of people with disabilities in the workplace.
Collins emphasizes, "It is evident that more awareness is needed to foster sensitivity surrounding the employment of people with disabilities."
He continues to champion the rights of people with disabilities, drawing inspiration from his own journey.
How does Light for the World promote economic independence for people with disabilities?
To create more opportunities for people with disabilities – in both formal and informal employment – Light for the World in Kenya focuses on "upskilling" people with disabilities to enhance their employability and entrepreneurial capacities.
The goal? People with disabilities are able to develop stable sources of income for themselves and their families.
We also offer assistive and mobility devices, promote reasonable accommodation and accessibility, advocate for a more inclusive procurement and business environment, and connect micro-entrepreneurs to market and procurement opportunities.
Throughout the whole process, our Disability Inclusion Facilitators share their own stories with businesses and prospective employees alike, to sensitise them to issues including stigma and prejudice.
A journey to successful entrepreneurship
One of the many success stories we can share from this approach is told by Lylian Adhiambo, the proud owner of Amani Bakery.
When Lylian first established her business, she was using just three to four packets of flour a day to produce her baked goods. Today, she uses over 18 packets in a day, baking primarily for retailers. Lylian's turning point came when she joined Light for the World's InBusiness Programme in Kenya, part of the UKAID-funded Inclusive Futures Initiative. Through the programme, she acquired essential skills in record-keeping, customer relations and financial management, catalysing her business's growth.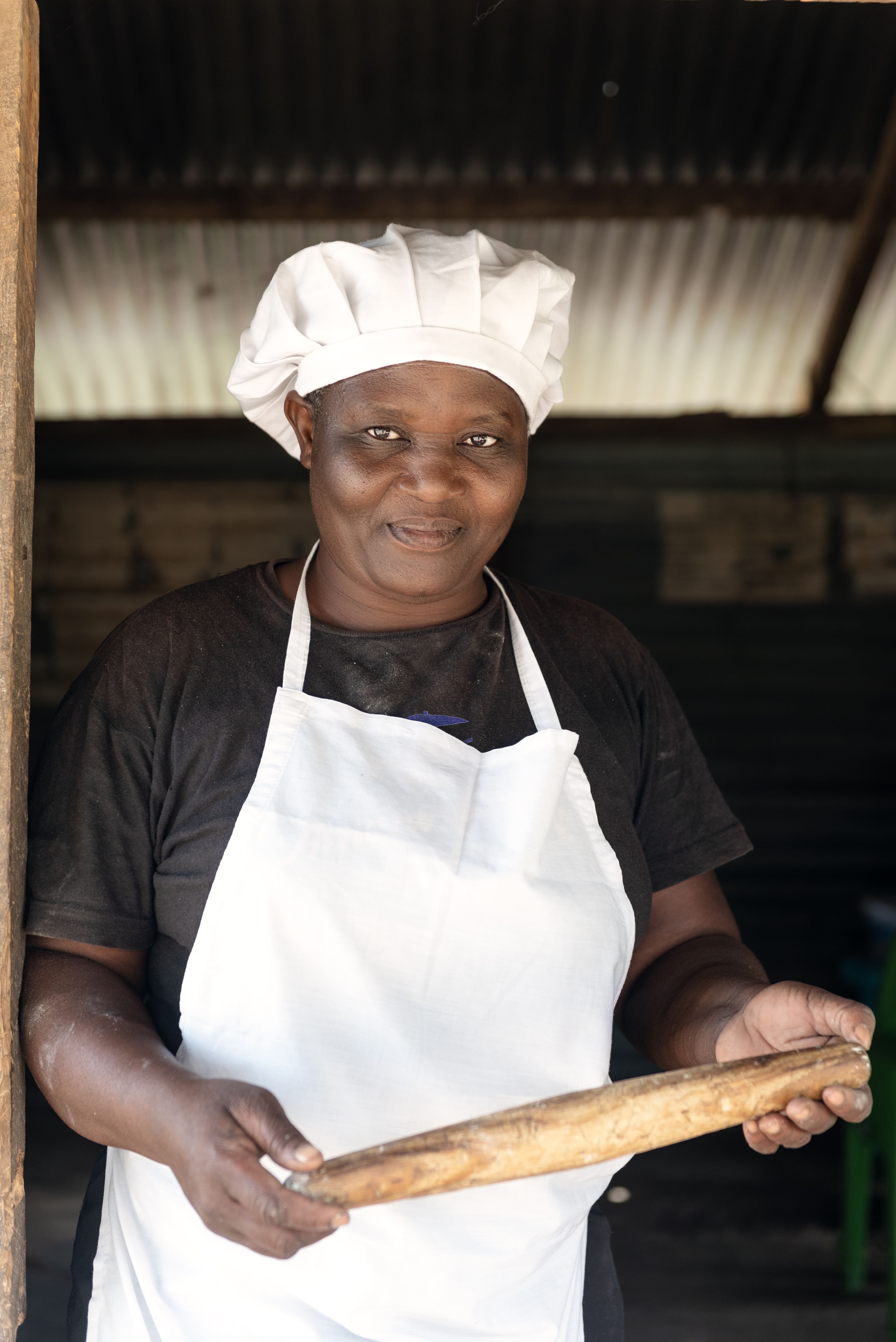 She shares, "I never used to be consistent in my business. This is because I had no knowledge of how to run this kind of a business. On several occasions, my business collapsed."
The profitability of her business soared, with her first month of record-keeping revealing a 7,000Ksh (or 52USD) profit. Today, Lylian proudly supports her family, covering her children's school fees, medical expenses and other essentials.
Lylian's journey continues as she expands her bakery business and ventures into catering, all while reinvesting in her bakery and exploring subsistence farming.
Next steps: recommendations to promote economic independence for people with disabilities
Expanding employment and business opportunities for people with disabilities requires a concerted effort among government, civil society organisations, employers in the private sector and the international community.
Beyond legal and policy reforms, Kenya must transform societal attitudes, promote awareness and create inclusive and accessible environments where people with disabilities can thrive and fully exercise their right to work.
One significant challenge is the absence of accurate data on the number of people with disabilities. This hampers the ability of the government, policymakers and various stakeholders to make informed decisions on allocating resources effectively and implementing targeted interventions. Conducting a comprehensive national disability census is crucial to advance the rights and economic independence of people with disabilities in Kenya.
Inclusive education is a gateway to accessing fair and dignified employment. Governments and stakeholders should prioritise this to ensure people with disabilities have access to quality education and vocational training that prepares them for the job market.
"Reasonable accommodations" such as accessible communication assistive devices, modified workplaces and flexible schedules are another important step to support inclusion. Employers, both in the private and public sectors, must provide reasonable accommodations, as mandated by the UNCRPD which Kenya is a signatory to.
The path to economic independence for people with disabilities in Kenya requires a holistic and collaborative approach. It must address societal attitudes and expand educational opportunities and workplace inclusivity to ensure the right to work is a reality for all individuals. Only then, will Kenya achieve the provisions of UNCRPD Article 27 and the Constitution of Kenya 2010 and realise economic equality for all.