Economic Empowerment

General
Ahead of World Youth Skills Day (July 15), young people with disabilities explain how employment training prepares them for a future of fulfilling work.
"Graduating from the employability skills training is a new mark in my life. Moving forward I am happy to expand my career skills as I transition to the world of work."
He is one of more than 100 students who recently graduated from the Employable programme. Run by Light for the World in partnership with Standard Chartered bank, the programme provides young people with and without disabilities with work-readiness skills.
Brian (pictured above, right) and other students at the institute completed the seven-week programme, which features training modules geared towards enhancing their employability prospects and skills. This includes how to write a winning curriculum vitae, interview skills, networking, personal finances, leadership, workplace etiquette, conflict management and communication skills.  
"The training helped build my confidence. I learnt how to express myself and live with fellow peers who are visually impaired like me and those with diverse disabilities," says Brian, who studies Building Technology at the institute.
Barriers to fulfilling work
In recent decades, Kenya has made great strides to realise the rights of people with disabilities, including ratifying the UN Convention on the Rights of Persons with Disabilities in 2008. However, young people with disabilities like Brian continue to face enormous inequalities and barriers to realise their right to education and gain decent, dignified and fulfilling work.
"When we enrol young people into the programme, we do not look at their disabilities but their abilities," says Racheal Njiru, who runs the scale-up phase of the Employable programme.
"It is fulfilling to see their excitement regarding their future and how they really want to invest in that. It goes ahead to say that every young person is employable."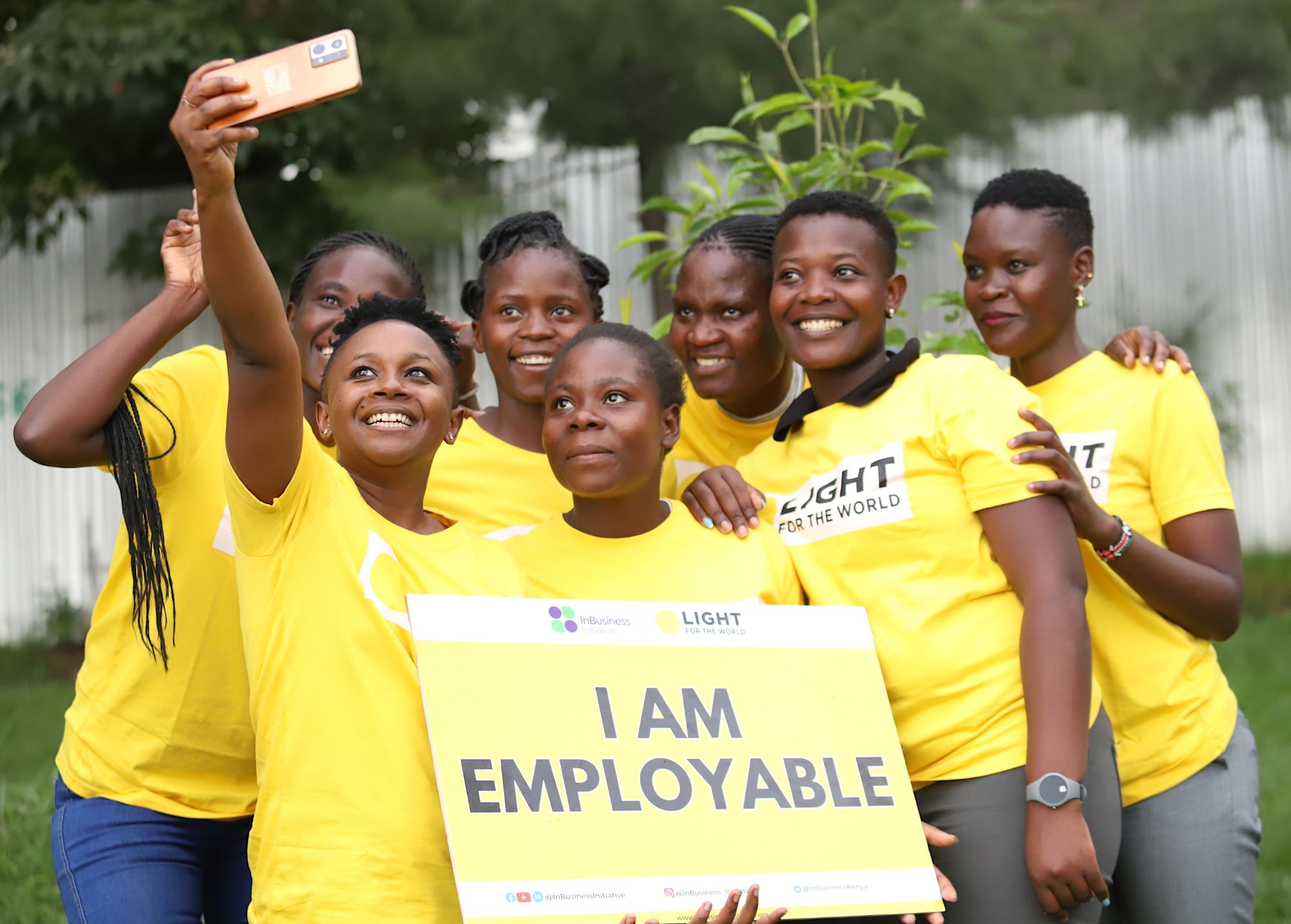 As of July 2023, nearly 5,000 learners from various Kenyan tertiary institutions have participated in the programme, which is delivered virtually and in-person. It is accessible to people with visual impairments and those with diverse disabilities.
In addition to employability skills training, the programme offers in-person coaching and mentorship and linkages to internships and job shadowing opportunities. This ensures students with and without disabilities can have a smooth transition to the workforce.
Learning life skills
John Mbayi, who is studying Human Resource Management at Machakos Technical Institute for the Blind, says the employment training and mentorship sessions, "taught me a lot of life skills".
"It can be quite difficult when you have grown up with sight then you lose it as an adult. You must make a lot of adjustments, it's really challenging mentally and emotionally," he says.
"Now I know that there are quite a lot of things to consider when applying for a job and not just your academic qualifications. I have also learnt that there are quite a number of opportunities for people like me."
Faith Wayua, a second-year student also studying Human Resource Management, enrolled in the Employable programme to learn how to best interact with colleagues when she secures a job.
"I am proud of myself for completing the training sessions and finally graduating from the programme. Now I can write a very good CV and I have started looking for internships," she says.
"As a human resources person, relating with people well becomes a priority. I am looking forward to graduating from school and getting employed so that I can make more money."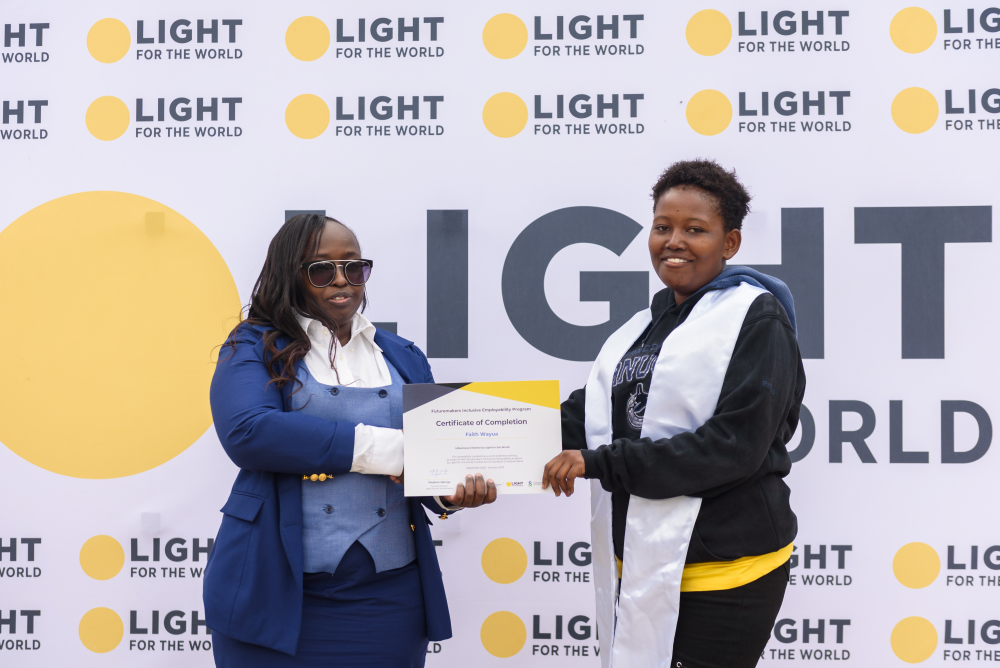 Light for the World continues to work closely with organisations and institutions within the public and private sectors throughout Kenya to inspire disability inclusion. The goal is to create disability inclusive workplaces where Brian, John, Faith and other young people with disabilities can thrive.
Asked what advice he would offer to others who have lost their sight, and perhaps with it their hope for finding fulfilling work, John says:
There are opportunities out there that can help us improve our lives and become fully independent. So, stay positive, stay hopeful. Things will get better."
For more information about Light for the World's work engaging people with disabilities in employment, business and education in Kenya, visit: www.inbusinessinitiative.org and follow the hashtags #EmployABLE and #IAmEmployable