General

Economic Empowerment

Humanitarian Action
In 2021, Light for the World delivered an immediate response for those most deeply impacted by the Covid-19 pandemic. Since then, the project has grown into an opportunity for them to recover their livelihoods, too.
When the Covid-19 pandemic hit Ethiopia in 2020, women, girls and people with disabilities were among the worst affected.
With the nationwide shutdown of schools, many were excluded from education. And as the healthcare system shifted resources to the pandemic response, essential primary services were suspended — disproportionately impacting women and people with disabilities.
While restrictions have since eased, the economic, physical and psychological impacts of the pandemic continue to be felt within the population.
To address both immediate needs during the pandemic and put in place longer-term solutions, Light for the World launched the COVID 19 Response Across the Humanitarian – Development Nexus in Ethiopia (ACROSS) project in a consortium with Red Cross Austria and Care Austria.
The project, funded by the Austrian Development Agency (ADA), also relied on implementing partners CARE Ethiopia, the Ethiopian Red Cross Society, the Ethiopian Center for Disability and Development and Harmee for Education and Development Association.
Crossing the nexus of humanitarian aid and development, ACROSS began in May 2021 and runs until October 2023. By then, it is expected to have directly benefitted more than 330,000 people.
Immediate assistance and increasing resilience
ACROSS aims to increase resilience and self-reliance of communities and individuals, especially women, girls and people with disabilities, in South Omo, West and East Arsi, West Hararghe and Arba Minch regions.
In its initial phase, the project provided timely, gender responsive and inclusive information about the Covid-19 pandemic. There was also a focus on the water, sanitation and hygiene and pre-hospital care needs of marginalised groups, as well as on building resilience, especially among girls and women, including those with disabilities. This included offering mental health and psychosocial support.
With the worst moments of the pandemic now passed, ACROSS has provided short and medium-term grants and loans to support communities, and training to encourage individuals to develop their own sustainable business strategies.
Cash support and loans have been provided through Village Savings and Loan Associations (VSLAs). The support from the VSLAs, which focus on having women and people with disabilities as members and leaders, has been offered to those who had lost their job or business in the pandemic. These have primarily benefited female-headed households and people with disabilities.
The grants and loans are combined with financial literacy, life skills and business training. Young people with disabilities receive additional technical and entrepreneurial skills training and some have trained as Disability Inclusion Facilitators (DIFs) to promote inclusion.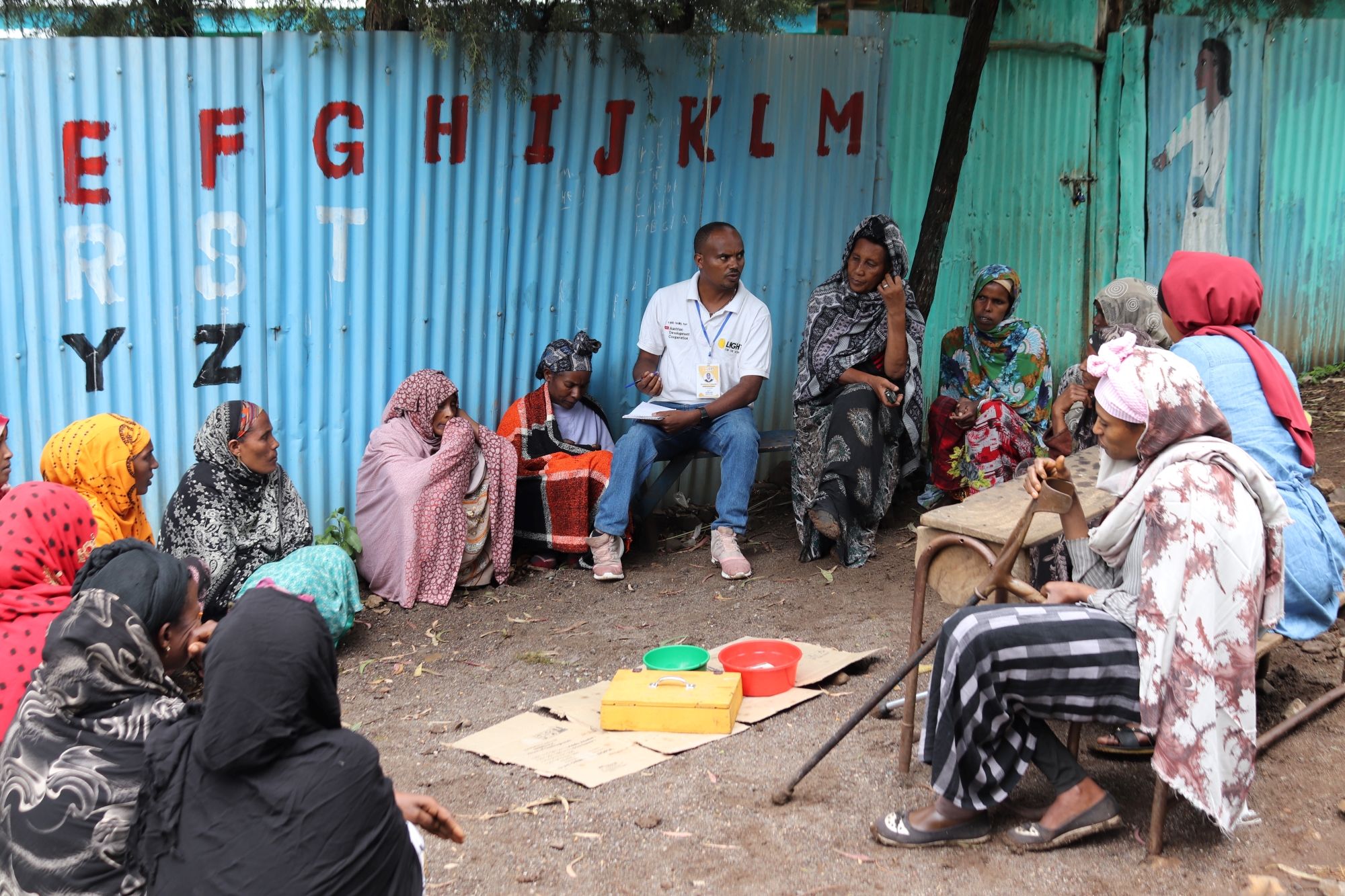 Losing your livelihood
Before the pandemic, Zehara Mohamed Ali was a successful trader of khat, a plant which releases a stimulant-like effect when chewed.
"I was doing a great job of supporting my family. I was sending my kids to school and living a really happy life," says Zehara, from the West Hararghe Zone of West Oromia.
One day, she was travelling back to her town on a contract motorbike after purchasing khat from farmers. Zehara was worried about missing the market opening and potentially valuable moments to sell her stock.
"We were hurrying to get to the market on time when a Bajaj (three-wheel scooter) collided with us. It hit us hard, breaking both of my legs," says Zehara, 43.
Over the following three years, Zehara spent her savings on medical care and was forced to borrow money from family and friends.
"Those years were the worst of my life. I had nothing, was struggling to feed my children and they were no longer in school," she says.
It was difficult for me to accept my new reality as a person with a disability, and I did not believe that I could reclaim my status in the community and my khat trading."
When she was first approached by a community worker from the ACROSS project, Zehara was hesitant. But the community worker and VSLA leader persisted, eventually convincing Zehara to join her neighbourhood VSLA, where she is now an active member.
"Whenever a meeting is called, I am the first to arrive. I enjoy chatting with my fellow women in the saving group. Being a part of this group has benefited me not only financially, but also psychologically," says Zehara.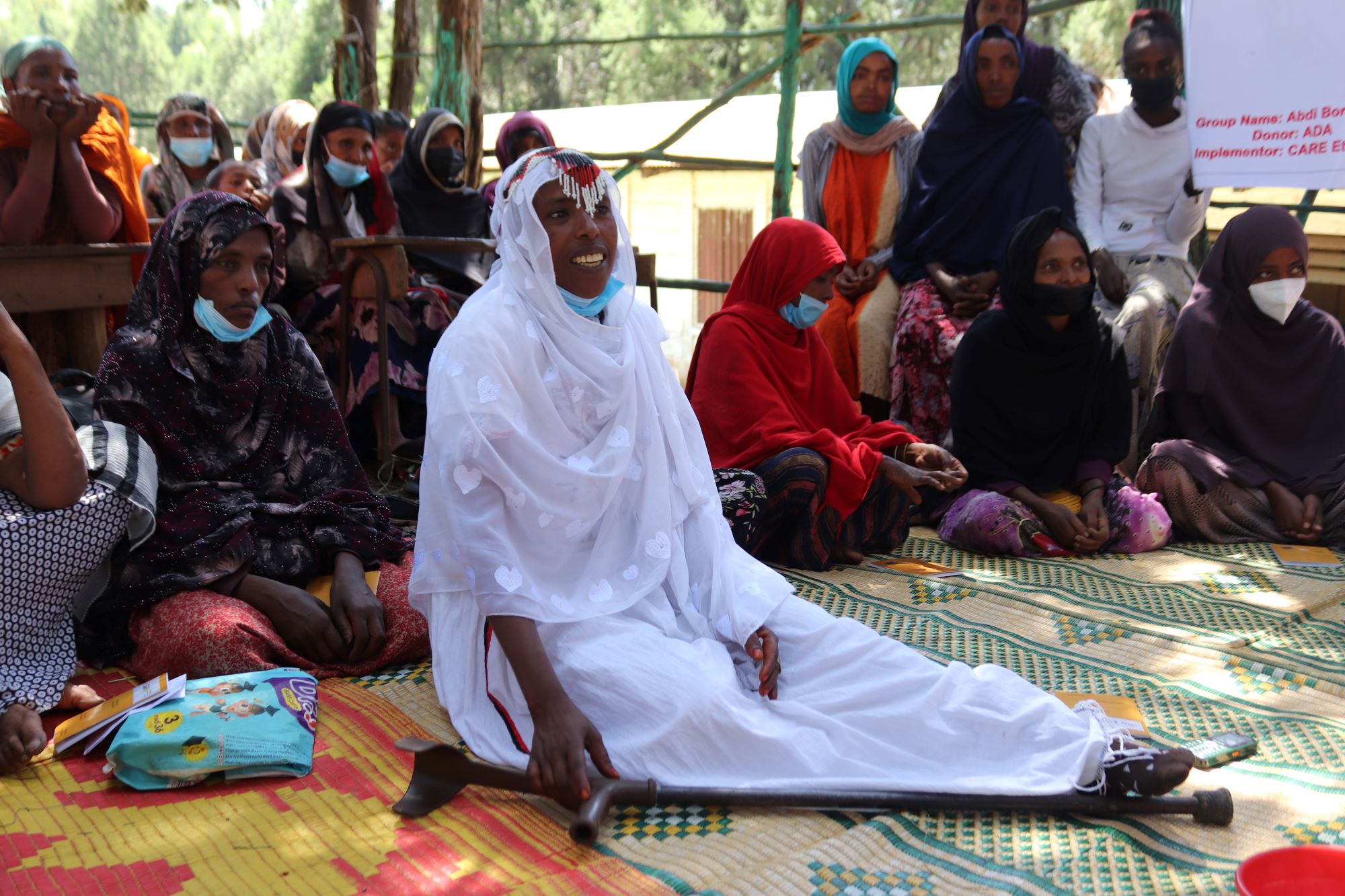 "It gave me the chance to rebuild my life. They gave me a loan allowing me to restart my khat trading. I was able to repay my loan and the money I borrowed for my treatment in less than a year.
"My children are now back in school, making me the happiest mother I've ever been."
Light for the World works to ensure inclusion in humanitarian emergencies — whether the cause is a pandemic, conflict or the climate crisis — so people like Zehara can fulfil their potential. As well as the initial immediate response, the goal is to build an inclusion mindset and lasting resilience in the affected communities. 
Find out more about our humanitarian action work here.