Humanitarian Action

Latest
Ahead of World Refugee Day (June 20), Nyakhan's story highlights the challenges refugees and returnees with disabilities face after being displaced by the violence in Sudan.
The one-year-old girl has hydrocephalus, a buildup of cerebrospinal fluid which causes pressure on the brain. Left untreated, hydrocephalus can cause brain damage.
Surgeons at the hospital in the Sudanese capital had performed shunt surgery on Nyakhan, inserting a thin tube into her brain. The excess cerebrospinal fluid flows through the tube to another part of her body.
By the time Nyakhan was due back at the hospital for a checkup, the fighting in Sudan had intensified. Nawal decided to make the long journey to South Sudan, her country of origin, with her daughter. The journey, by truck, took several days.
"Life was so difficult as we travelled from Khartoum to Renk and then Polouch (in South Sudan)," says Nawal.
The violence displaced us without any access to necessities such as food, clean water and shelter. If not for the support from organisations (NGOs) on the way, we wouldn't have survived and reached South Sudan."
An inclusive emergency response
Hundreds of thousands of people have left Sudan for neighbouring countries since the outbreak of violence in April.
"We are communicating with South Sudan's Relief and Rehabilitation Commission (RRC) to conduct inclusive humanitarian action training for mainstream actors," says Sophia Mohammed, country director for Light for the World in South Sudan.
"Currently we are working with the coordination team at Mangateen camp for Internally Displaced People (IDPs) in Juba to support returnees from Sudan.
"We will conduct an inclusive humanitarian training for all actors, including UN agencies, in the first week of July."
The training sessions provide guidance to other humanitarian organisations on how to effectively include people with disabilities in their emergency response.
Disability Inclusion Facilitators (DIFs) then give on-the-job coaching to those managing the response, including on how to use disability inclusion scorecards.
Disability Inclusion in Community Development (DICD) workers from Light for the Work are also collecting information from refugees and returnees with disabilities in Mangateen and another camp in Juba. Medical referrals and rehabilitation plans are being prepared for those who require them.
"Some parts of the camps are not accessible for people with disabilities and there is not always enough food for them," says Sophia.
Help for refugees and returnees with disabilities
After reaching Polouch, Nyakhan and Nawal were airlifted to Juba. They are currently in Mangateen, where Nyakhan's aunt and grandmother also live.
Light for the World organised a medical referral for Nyakhan to follow-up on her surgery at Usratuna Center, a children's health and rehabilitation centre run by Italian NGO OVCI.
In partnership with the centre, Light for the World has since arranged a second referral to a neurosurgeon in Uganda. While not the core of Light for the World's work, referrals like this are organised in specific cases when a person with a disability requires urgent medical attention.
Nyakhan is currently in good health. Light for the World has organised physiotherapy sessions and given her a wheelchair and mobility chair.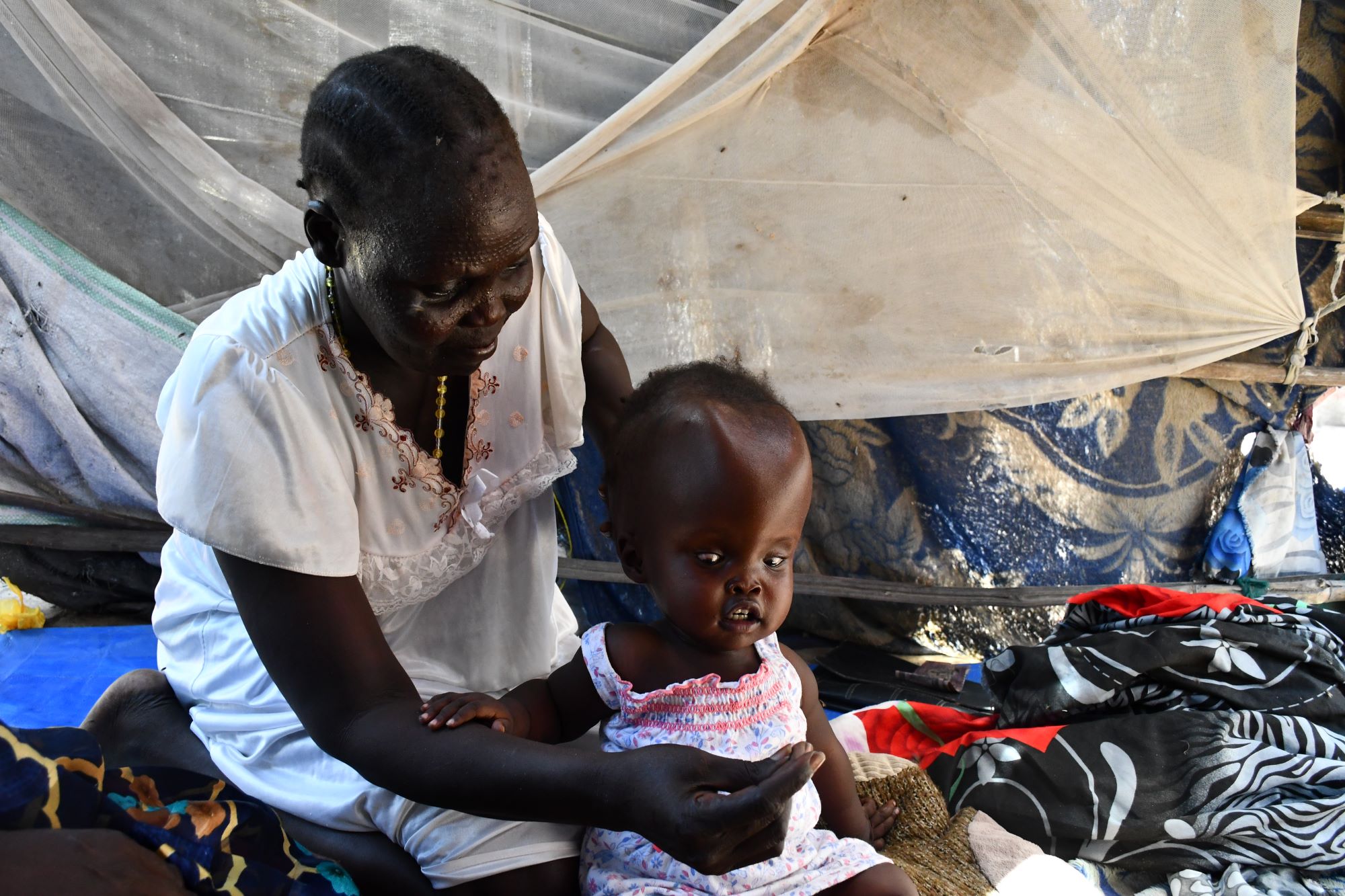 "We are not planning to leave the camp until my child gets well. We would have travelled to our hometown but because of insecurity and a lack of access to medication we can't go back," says Nawal.
"I feel so grateful to Light for the World for helping to organise the referral for Nyakhan. I am very happy my child is doing better."
Light for the World continues to support refugees and returnees with disabilities arriving in South Sudan, working alongside partners to provide a humanitarian response that includes everyone.
Find out more about our humanitarian action work here.