For the 240 million children with disabilities worldwide, and especially those in African countries, the use of assistive technology in school lessons represents a new opportunity not only to improve education, but also reduce barriers.
"How is a blind person supposed to work, go to school or participate in life?" were Christophe Oulé's first thoughts when he learned that he was to go blind at the age of only 40. He felt hopeless.
But his doctor had some encouraging words: "It's imperative that you carry on and are there for your daughters, that they can call you Papa – your presence as their father makes so much difference. Don't think you're useless!"
In Burkina Faso alone, more than 1.1 million people live with a visual impairment or are completely blind. Integration and inclusion are slow, because these people cannot access newspapers, books or information. Worldwide, less than 10% of books published annually are offered in an accessible format.
Breaking down barriers in Burkina Faso
As an avid bookworm, Christophe missed reading most. His wife helped him search for solutions and he learned Braille with the help of an association for blind people.
He decided to pass on that knowledge and began helping children with visual impairments in schools, using an accessible computer. A new world was opening up for him, and those children.
"I was able to become less isolated. I had a lot of new ideas and started dreaming about how to apply this technology."

Christophe Oulé, Founder of the Resource Centre in Burkina Faso
Using digital technologies in inclusive teaching is a big game changer for people with disabilities. It's only since 2018 that reading materials in Burkina Faso have been allowed to be digitally processed, because of restrictions on copyright in the Marrakesh Treaty. The relaxation of these rules has laid a path for more inclusion.
Technical aids for inclusive teaching
Access to digital technology has changed Christophe Oulé's life. He wants to spread that joy and passion for inclusive education to other people with disabilities by bringing together children with and without disabilities in the classroom.
The Resource Centre in Ougadougou, the capital of Burkina Faso, supports accessible information and communication technology solutions, and was co-founded by Christophe. The members of the centre are working to provide digital technologies such as solar-powered audio devices, readers and Braille printers for people with disabilities, plus accessible textbooks for more inclusive teaching.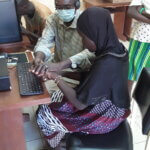 The Resource Centre is a vital source for students to find accessible content and technology, as unlike in many parts of Europe, not everyone has a power connection, Internet and a laptop at home.
In 2021 alone, the centre in Burkina Faso was able to translate 150 books into the barrier-free EPUB* format. 54 more books have already been scanned and are just waiting to be digitised and heard or read in Braille.
New educational paths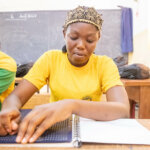 One of the most practical devices for people with a visual impairment is the solar-powered audio device that Minata uses in class. She has had trouble seeing since the third grade.
Her eyesight began to diminish, slowly at first, but soon she could no longer go to school. After spending several years at home, she learned about the Resource Centre from a friend.
Thanks to the support of trained teachers, she was able to resume her educational path. The first year was not easy, but with the support of the audio device she was able to record lessons and listen to textbooks.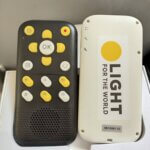 The centre has textbooks for students like Minata, but also novels that are transferred to a small memory card from the audio device using 11 laptops and 10 tablets. A student can also use the Braille printer to print and read lessons in Braille afterwards.
Digital technologies: The logical next step in inclusive education
For Christophe, the use of technology is a proven way forward.
"Thanks to technological aids, we were able to break down some barriers for children with disabilities. We supported them in their learning and achieved very good results. Five out of six students who studied with an audio device have graduated."

Christophe Oulé
Technological tools have a lot of potential for inclusive education, but electricity and Internet supply is often needed, which cannot always be ensured, especially in rural areas.
At Light for the World, we strive to reach as many learners as possible, whether in rural areas or in the city, because everyone has a right to education and to a self-determined and bright future.