Marion Lieser will head Light for the World from August 2022, as founder Rupert Roniger steps down after 27 years.
Marion, who was Executive Director of Oxfam Germany, brings a clear vision for Light for the World and a wealth of experience in both the profit and not-for-profit sectors.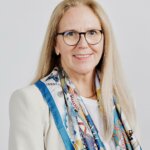 With a background in social education, social work, sociology and environmental science, Marion has honed her expertise in international development in Germany, as well as in Kenya, Tanzania and beyond.
My vision is of a just world, that is a world without poverty and without discrimination, where every person can live a life of freedom.

Marion Lieser, New CEO, Light for the World
A career driven by principle
Marion's career has been shaped by her convictions. She – like Light for the World – has always placed special focus on supporting those who are among the hardest to reach, and who are so often affected by extreme poverty. To do that successfully, listening to partners in the countries and communities you're working with is key.
"Too often, global development organisations do not listen to the available expertise and instead try to bring their own solutions, which simply do not work," says Marion.
"Instead, it is important to rely on existing expertise in countries where programmes take place. This is where the knowledge of our partner organisations through whom Light for the World implements programmes is vital. Their skills are irreplaceable, especially when you are talking about reaching people with disabilities who are living in extreme poverty."
A future built on firm foundations
Marion joins us at an ideal time. During his almost three decades as CEO, Rupert has grown Light for the World from a local body with just 2 employees to a global development organisation with over 250 staff in several African and European countries, and more than a quarter of a million individual donors, volunteers and supporters.
Together, they have saved the eyesight of more than 1 million people. It's a legacy that places Light for the World in an ideal position from which to strengthen our work and impact even further.
Our team is so strong, including its management. We have some of the world's leading experts and advocates in eye health, inclusive education and disability inclusive work in our organisation. Great things are happening. New opportunities are coming for Light for the World. Now is the time for the next chapter in leadership – a new, exciting era.

Rupert Roniger, Outgoing CEO, Light for the World
Marion will now lead Light for the World into this era. Her global experience, particularly in humanitarian crises, means that she has the right mix of skills to enable the organisation to continue to meet the health needs and promote disability rights in some of the lowest income regions in the world.
"I have been involved with the Global Justice Agenda for a long time," says Marion, adding that inclusion, the rights of people with disabilities, and access to health and social services have all featured prominently in this agenda. "I am honoured to be able to put this experience to work at Light for the World."