In September, the school year finally starts anew in many places: meaning the return of crucial eye tests for children.
Children and youth experienced many restrictions due to the COVID-19 pandemic. The quality of education suffered when schools closed and switched to distance learning. Extracurricular social activities were almost non-existent. Annual health checks at school, an important tool to detect health issues, could also not take place.
School eye tests: improving educational performance
Without regular eye health exams, eye problems in children often remain undetected. The consequences can be huge. A child whose vision loss is not treated, will often face problems in class. In settings where teachers are not equipped to support individual learning needs and recognise a child's health issues, they might conclude that the child is bored or lazy. In worst-case scenarios, the child may drop out of school.
Broken glasses: a broken future?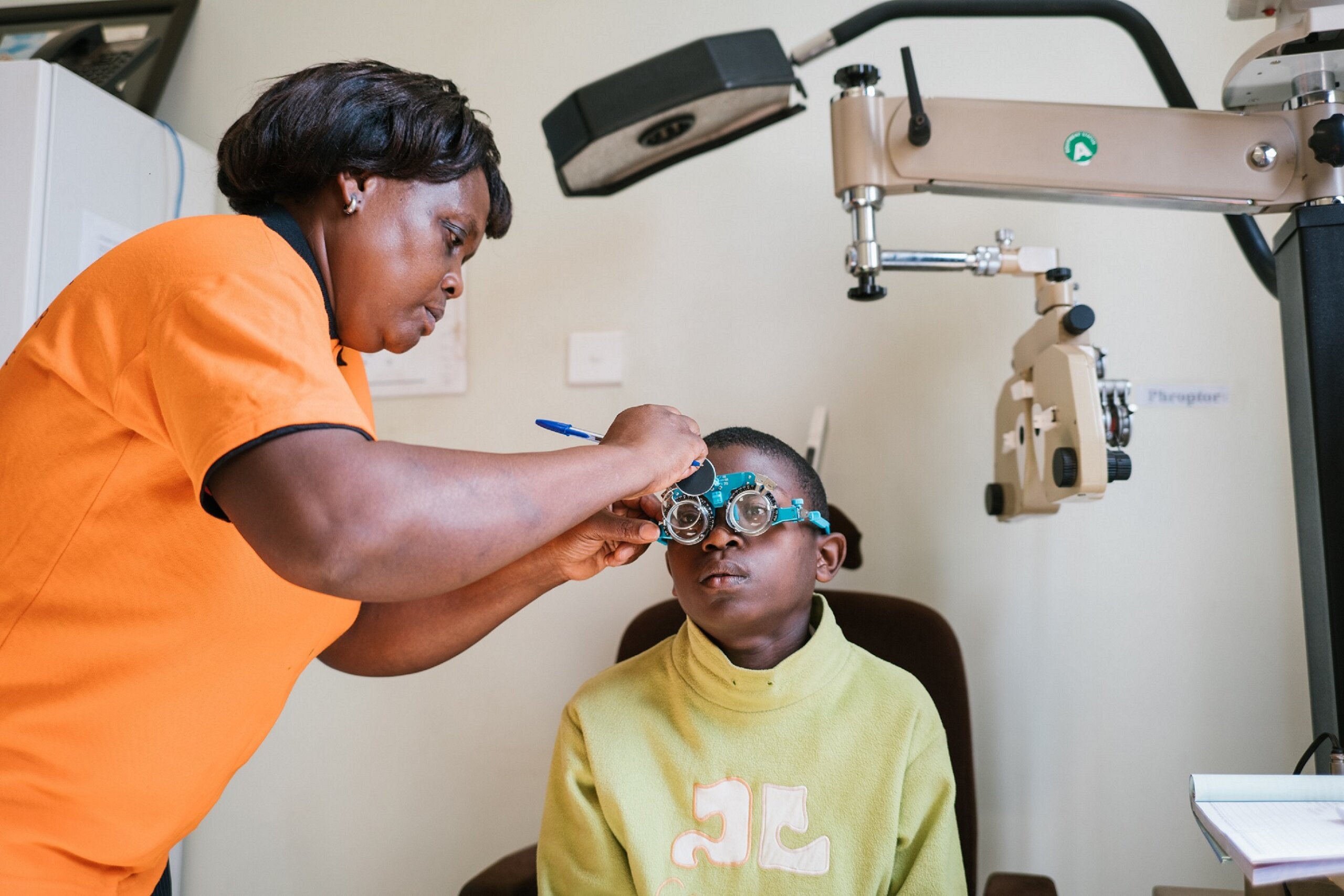 Justine's vision problems started in early childhood. He received glasses, but when they broke, his family could not afford new ones. Following class became extremely difficult for him and he almost dropped out of school when a teacher told him to leave.
Around that time, Light for the World held one of its eye health outreaches in Justine's district. Justine was checked by an Ophthalmic Clinical Officer (OCO), who sent him to Entebbe Hospital for a free ophthalmic exam. There, the boy received spectacles and a handheld telescope to help him read and see the blackboard. Today Justine is in grade six primary. While he is quite a bit older than his classmates, he loves being able to study again.
Our work for comprehensive child eye health
Justine's story is just one example of how life-changing school eye health can be for the development and opportunities of a child. With our programmes in countries like Burkina Faso and Uganda, we set out to establish sustainable eye health to ensure that every child gets access to high-quality eye care.
Light for the World's comprehensive approach to child eye health means working with all stakeholders, the World Health Organisation, governments and healthcare structures, local health and community services, and school teachers. Teachers are especially important because of their direct work with children. With our partners, we show teachers how to offer simple eye tests at school, how to recognise early signs of visual disabilities and sight problems and how to connect to hospitals and ophthalmic services in the area.
This method has proven highly effective in finding eye problems and making sure that children don't leave their educational path.
#LoveYourEyes – join the global campaign
Did you know that more than a billion people do not have access to eye health services?
We are proud to be part of the global campaign #LoveYourEyes by the International Agency for the Prevention of Blindness (IAPB). Together we stand up for eye health for all, everywhere. Join the movement by getting your own eyes tested, by telling others, and by supporting eye health in low-income countries.