From training health professionals to partnering for sustainable change, here are six ways to improve child eye health in sub-Saharan Africa.
No child should lose their sight if it can be avoided.
Improving child eye health care services contributes to overall strengthening of healthcare systems. It leads to better educational achievement and healthier children.
Here are six ways to improve child eye health and implement successful programmes in sub-Saharan Africa.
1. Take a comprehensive approach
Improving child eye health in sub-Saharan Africa requires a comprehensive, disability-inclusive plan.
At Light for the World, we focus on regions where access to eye care is difficult. We facilitate eye services for children — with a particular focus on girls — and people with and without disabilities, including those living in remote areas.
Our innovative 1,2,3 I can see! programme is a 10-year child eye health project in Burkina Faso, Ethiopia, Mozambique and Uganda. 1,2,3 I can see! advocates for the promotion of eye health in schools and helps reinforce healthcare systems.
The programme includes raising awareness with schoolteachers on how to detect potential eye problems in pupils, training the next generation of child eye health professionals and providing quality child eye care treatment.
2. Train eye health professionals
A strong workforce of well-trained local health professionals is essential to strengthen child eye health services and ensure they remain strong.
Light for the World provides scholarships for ophthalmology residents and subspecialisation training — including paediatric ophthalmology — for ophthalmologists, nurses and other allied staff.
We have partnered to initiate and facilitate the training of optometrists in Uganda and supported the training of 130 general ophthalmologists since 1997. This includes Mozambique's first paediatric ophthalmologist, Dr Vasco Da Gama, and two more Mozambican ophthalmologists who graduated from paediatric ophthalmology training in 2022. We are currently supporting the training of Burkina Faso's first paediatric ophthalmologist, as well as paediatric ophthalmologists in Ethiopia and Uganda.
Other child eye health professionals must also be trained to build a comprehensive service. For example, under 1,2,3 I can see!, ophthalmology technicians and ophthalmic nurses have undertaken additional training, including how to offer simple eye treatments to children and referrals to specialists.
3. Identify child eye health issues early
School-based eye health programmes are a proven way to deliver efficient child eye care and boost learning outcomes. By embedding child eye health in education systems, teachers are trained to identify pupils with eye conditions as early as possible.
This early detection is especially important for eye conditions like cataract (sometimes unilateral), amblyopia and glaucoma, which can cause irreversible blindness if left untreated.
More than 715,000 children were screened at school by Light for the World between 2018 and 2022.
They include Nigest Unche (pictured above), who attends Sikela Primary School in Arba Minch, Ethiopia. Nigest received glasses after her teacher, Desalegn Wada, was trained on how to conduct screenings.
"I don't have troubles anymore following class, my writing is better, I can study without help, and I can go out in sunlight, because the lenses protect my eyes!" says Nigest.
I am very happy and I can do anything I want."
Wolfgang Gindorfer, Director of Uncorrected Refractive Errors & Child Eye Health at Light for the World, says: "Any child not detected in time with a significant refractive error may lose the opportunity to develop to its full potential, just because they couldn't see what was written on the blackboard."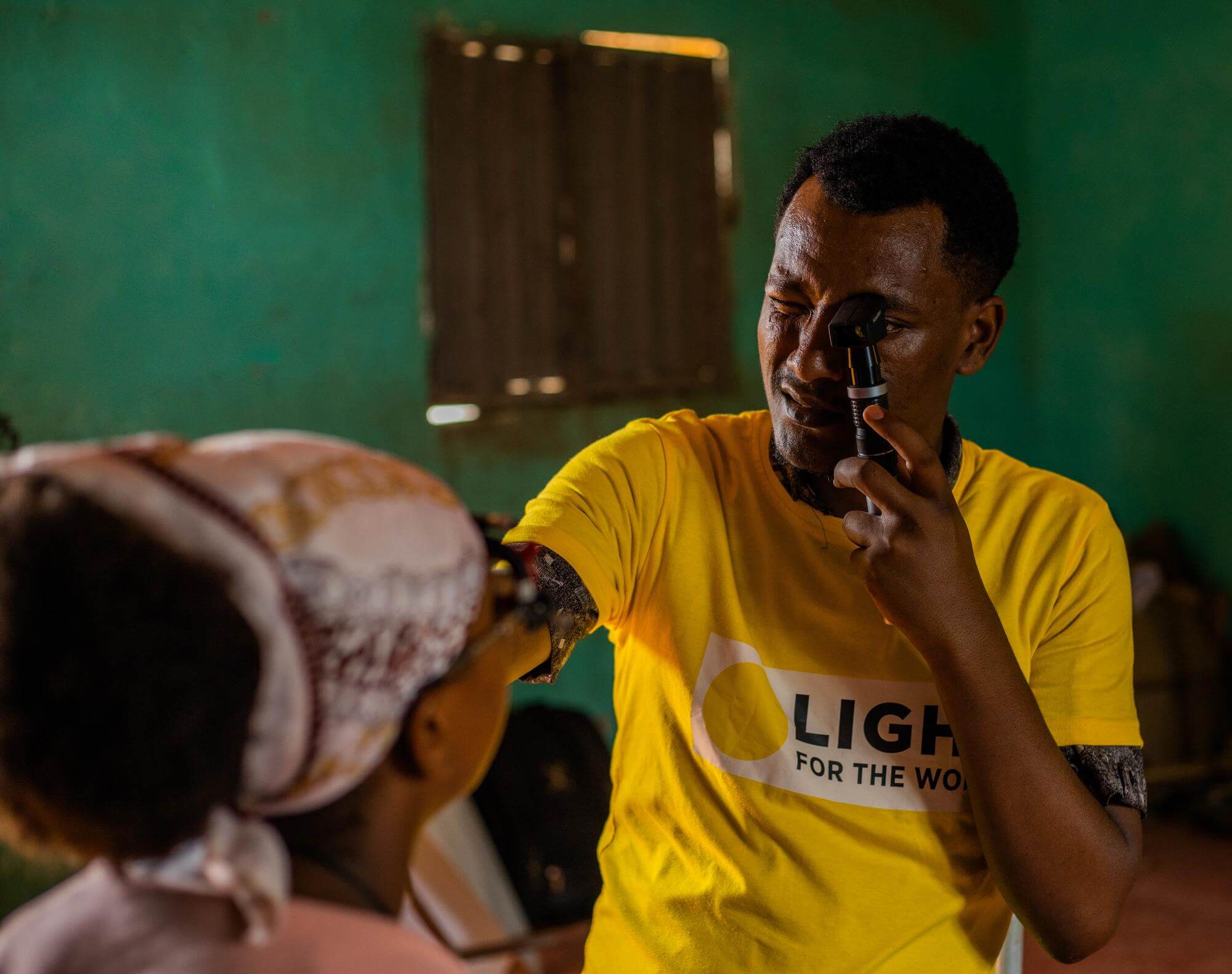 4. Improve access to treatment and surgeries
Cataracts are the primary cause of avoidable blindness for children in lower-income countries. Cataract operations take 30-45 minutes and are relatively simple to perform and teach. But too often there is inadequate access to surgeries, particularly for children living in remote areas or those with disabilities.
An effective child eye health strategy must include prevention and access to care and rehabilitation. Since 2018, Light for the World has supported 307,092 eye surgeries, including 177,194 for cataracts.
Access to effective treatments is also vital. One simple but highly effective intervention for children with eye conditions is spectacles. Providing spectacles to children with vision loss reduces the likelihood of failing a class by 44% — improving their eyesight and learning prospects.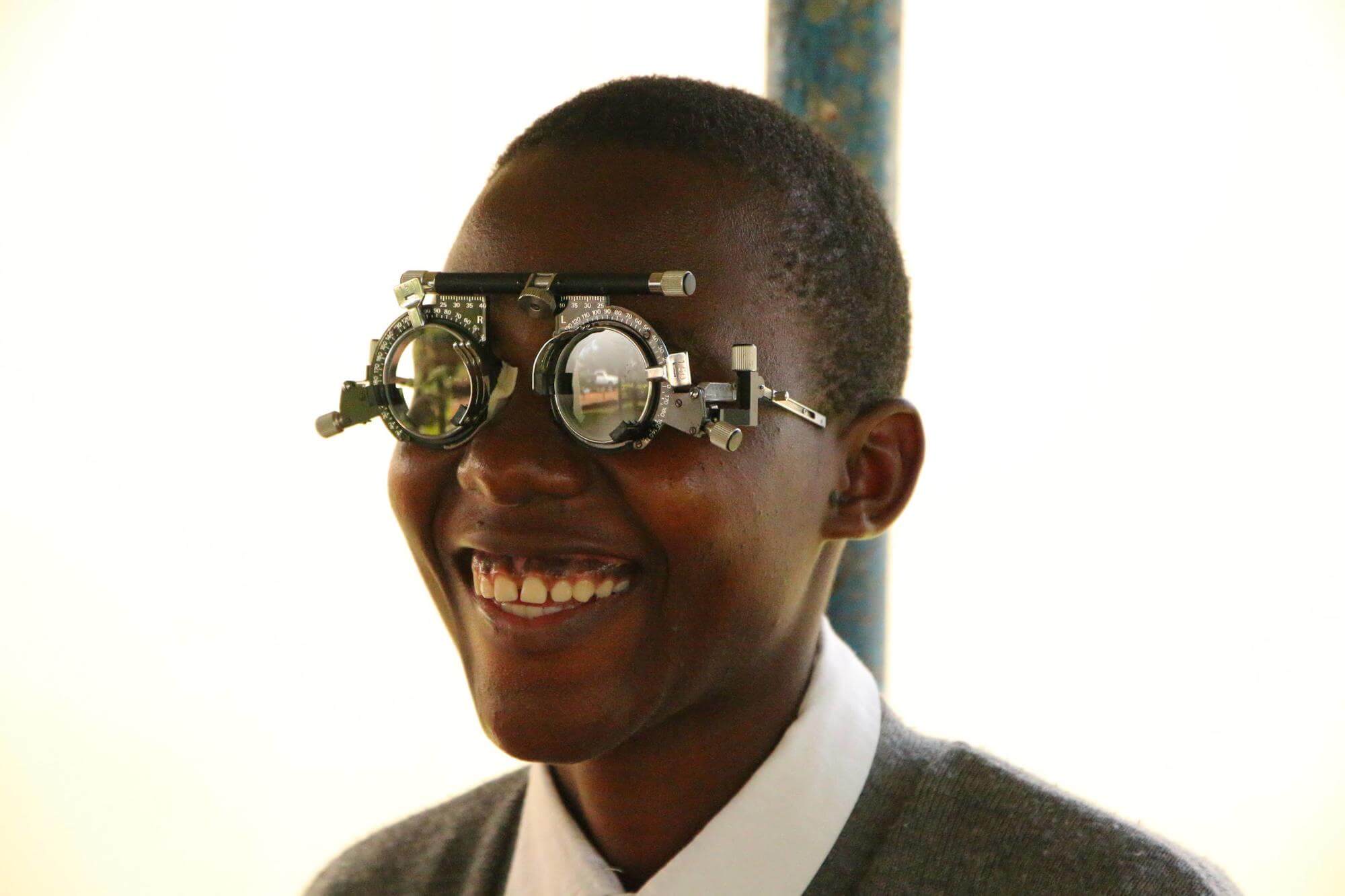 5. Highlight how better child eye health strengthens the health system
Improving child eye health contributes to overall health strengthening. A strong and sustainable child eye health system is essential to achieving several of the UN Sustainable Development Goals (SDGs).
We are halfway to the UN SDGs deadline of 2030. Child eye health is strongly linked to multiple goals. These include SDG 1 (No Poverty), SDG 3 (Good health and Well-being), SDG 4 (Quality Education), SDG 5 (Gender Equality), SDG 6 (Clean Water and Sanitation), SDG 8 (Decent Work and Economic Growth) and SDG 10 (Reduced Inequalities).
Children who struggle to see, struggle to learn. Children with vision impairment are up to five times less likely to be in formal education in lower and middle-income countries.
We raise awareness of the importance of child eye health in creating comprehensive healthcare systems. For example, we work with Ministries of Health to make sure national data includes indicators on child eye health and disabilities. Previously, the countries we work with had very little national data, and therefore almost no evidence, on child eye health. This data gives governments a full picture of the issue, and allows us to implement evidence-based programmes, which tackle root causes and create positive change.
"At Light for the World, we would like to be a voice of the children and make sure that their general health, and more specifically eye health, needs are addressed and fully integrated in the health systems," says Dr Geoffrey Wabulembo, Director of Eye Health and Neglected Tropical Diseases (NTDs) at Light for the World.
6. Partner for sustainable change
To ensure improvements to child eye health are long lasting, it is important to establish and nurture partnerships with like-minded organisations.
We work closely with the Ministries of Health and Education in countries where we work to ensure change is sustainable. Having seen the results of 1,2,3 I can see!, it is anticipated respective health and education ministries will continue integrating child eye health services within their national and local structures.
We also work closely with national professional associations of health professionals, including ophthalmologists, optometrists and nurses. We work alongside NGO partners and community groups, including organisations of people with disabilities. And we train local health professionals and contribute to national eye health strategies. We do not travel to a country, do a few treatments and leave.
Working with partners to integrate comprehensive child eye health at community, national and regional levels, we aim for systemic change and lasting impact.