General

Humanitarian Action

Latest

Stories
Football is much more than a spectator sport. As Simon Madol shows us, the "beautiful game" has the power to re-build community for people living in the shadow of war.
Simon Madol is, in his own words, "happy". The 25-year-old is in his third year of university with a bright future ahead of him – a considerable achievement in the face of terrible odds.
When war broke out near his home in Bor city, South Sudan, Simon (pictured above) fled south with his family and ended up in a camp for displaced people in the capital, Juba. "Even on our way here, we could see dead bodies floating on the river," he recalls.
The year was 2013 and he was just a teenager. Things could have gone badly for him, but a unique football experiment sponsored by UEFA Foundation and run by Light for the World changed his trajectory forever. He and fellow community members experienced first-hand the power that the beautiful game has to repair old wounds and unite communities for good.  
A year earlier, we were the ones causing harm … And now, just by playing football, we were bringing people together.

Simon Madol
Ethnic tensions in the camp
Once Simon and his family got to Juba, they found themselves embroiled in other hostilities at the camp. "Each person was staying with people from their tribe, we were not interacting with people from other ethnic groups," notes Simon.
"Most people were either from the Dinka, Murle and Anyuak tribes. And because people from different tribes didn't know each other well, and had handled the stress of the conflict, they were not happy. There was a lot of tension. All people cared about was their tribe, and they would get in a lot of fights between each other."
One evening, that tension caught up with Simon: "I was sitting in the soccer field with guys from my tribe, and guys from another tribe walked up to us and started asking us questions. One of them said: 'Who, among you here, pointed a light at us?'. None of us answered. The guy asked the question again. So, I answered and said: 'None of us pointed a light at you.' The guy slapped me. I was younger than him and he had taken my answer as disrespect."
The situation escalated to the point where the two groups clashed again and were detained briefly by police. Difficulties remained after they were released. "Any situation could spark another fight and it affected the whole camp, because if you had a relative or someone from your tribe involved in a fight, you could not stay neutral and had to take part," says Simon.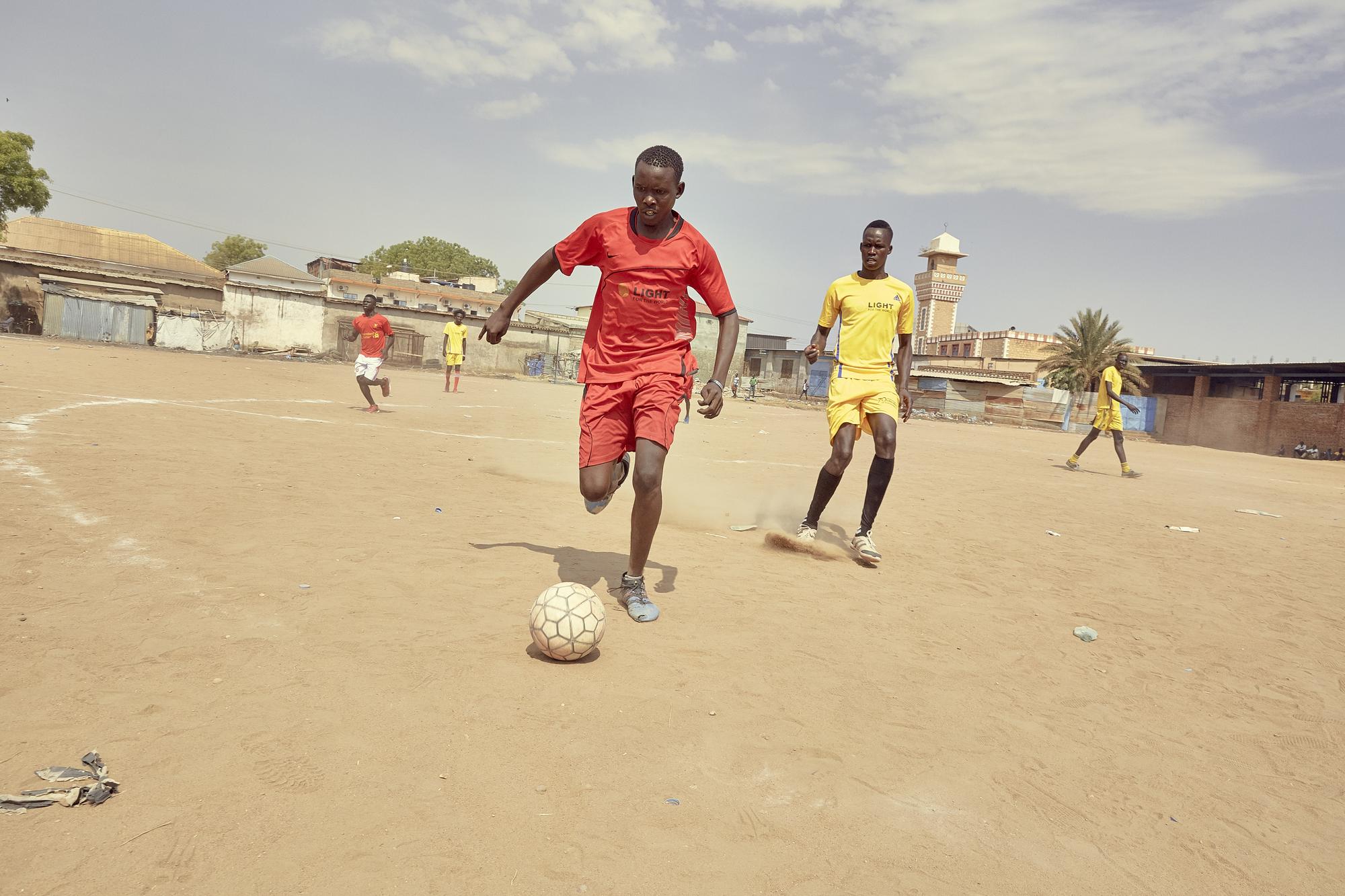 In 2014, Light for the World began working in the camp where Simon was staying. "Light for the World staff said they would like to organise a soccer game and that they would like us to play. But they said we would have to all play in one team," explains Simon. "They gave us shirts of one same colour. We started playing as a team, regardless of the tribe, all going towards the same goal. And when one of us would score, we would all celebrate. Even for the ones that we were fighting, some months earlier, in the camp. We were doing something all together, for the first time.
"I remember that on that day, my team lost. But we were still given a cup. We should have gone home feeling sad, but instead we were celebrating our losing cup. And when we arrived at the camp, everybody started celebrating us. And from then on, every time we were playing, we were divided into team A and B and never according to tribes. We were even protecting the camp, staying late after our soccer matches to watch after the camp's population and avoid any tension between people." Simon and the team also helped people with disabilities in the camp by fetching groceries and water, and providing security where needed.
Reflecting on the 12 months following his first encounter with the football initiative, Simon concludes: "A year earlier, we were the ones causing harm to the community by fighting each other. And now, just by playing football, we were bringing people together."
Soccer brings people together but is also the proof that it's not because the eye is blind that the mind is too.

Simon Madol
Disability inclusion and sport
A visit in 2014 by a media house from the Netherlands sealed Simon's path with Light for the World. "I was asked to do translation for them when they came to watch a football game, and one of the people from the media crew decided to sponsor my education," he says. "Right now, I am in my third year of university. In the meantime, in 2019, Light for the World invited me for a DIF [Disability Inclusion Facilitator] training and that's when I started learning more about disability and inclusion."
In the course of his learning, Simon realised that people with disabilities need sport just as much as those who don't have a disability. As Head Coach of the Blind Football team, he can bring together his passion for sports with his commitment to promoting disability rights.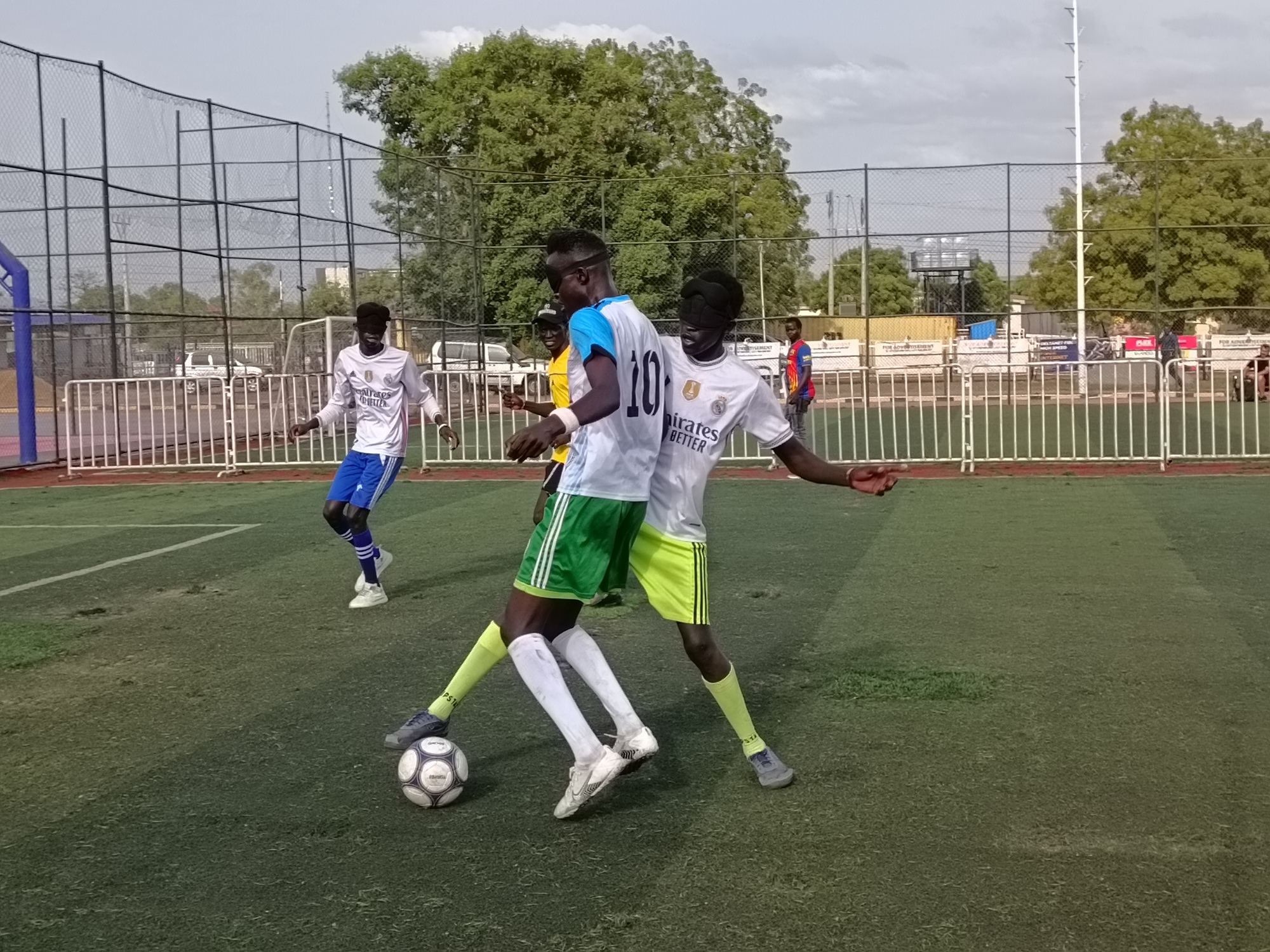 "My favourite activity is blind football. One of the players was becoming visually impaired when he joined us, but before he was playing in a regular Division 3 team," says Simon. "This guy thought that because he was becoming blind, he could never play soccer again. And then, he found hope and confidence again with blind football. And when he joined us, his previous teammates became interested in blind football, too.
"We trained them and now they play as well. So, there are visually impaired players and some who are not, but they all play together, blindfolded. We're talking of about 25 guys, playing together once a week."
The journey Simon has made – from a teenager dislocated by war and unable to see outside his own community, to a peace builder and disability rights champion – is remarkable. "I realise that we're making a great change with this activity and it's making me very happy," he says.
"Soccer brings people together but is also the proof that it's not because the eye is blind that the mind is too. People with disabilities can contribute equally to reaching a team's objectives, whether it is in a game or in everyday life."