General

Disability Rights
On 3rd December: learn from disability rights activists from around the world!
December 3rd, International Day of Persons with Disabilities (IDPD), is an important day to celebrate progress on disability rights and to take stock of the barriers that still prevent full participation and inclusion.
It is also a day to celebrate the achievements of the global disability rights movement itself, especially, organisations of people with disabilities.
This year, we asked 16 activists with disabilities from around the world to share their views on the current state of inclusion:
What progress are they most proud of?
What issues cause them major concern?
Which topics must be addressed next?
The statements they shared are a treasure trove of wisdom on the current state of disability rights.
The topics are as diverse as the issues which the disability rights movement fights for. They range from accessibility to education, sign language rights to economic empowerment, from youth participation to an overhaul of discriminatory legislation.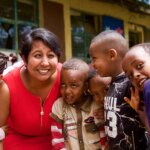 Change starts with inclusive education. And the good news is, we have clear guidance of how this change should look like.
At Expo Dubai, Nafisa Baboo speaks about putting inclusive education into practice for all children.
You can watch all videos on YouTube in this playlist. And click through our photo gallery below for all written statements.
Happy International Day of Persons with Disabilities! Today, I celebrate how far we have come since the UN adopted the CRPD fifteen years ago, and the World Bank/WHO published the World Report on Disability a decade ago. Next year, the change I still want to see is more use of evidence in developing policy to drive more inclusion.

Tom Shakespeare, board chair of Light for the World International