By Jane Waithera

In 2006, the Convention on the Rights of Persons with Disabilities (CRPD) was adopted by the General Assembly of the United Nations. Since then, 14 sessions of the Conference of States Parties (COSP) to the CRPD have been held at United Nations Headquarters, to discuss the situation of persons with disabilities and to advocate for their rights. Jane Waithera, Disability Inclusion Advisor for Light for the World, attended the 15th session (COSP15) from 14 to 16 June 2022. She explains what this event means to her and what it represents for the wider disability and inclusion sector.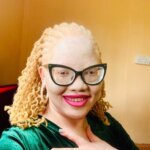 If I could wish for one thing, it would be for COSP to finally take place fully in person again, so that I could meet with my fellow disability activists and experts from all over the world.
The – mostly virtual – COSP 2022, the main annual international disability conference, just ended. But despite staying in Nairobi, it was still great for me to join in on the action.
From Expert to Expert
COSP is an event for experts – persons with disabilities and their representative organisations, but also international organisations, governments and Non-Governmental Organisations (NGOs), like Light for the World. One of the key themes this year was economic empowerment.
How do we make sure that persons with disabilities have decent work? How do we ensure that workplaces are accessible? How do we tackle the stigma around the capacities of persons with disabilities, which are so harmful to our right to work on an equal basis with others?
It was great to represent Light for the World in these discussions and to showcase our efforts in Kenya, my home country, and across the countries we work in.
Making Our Stories Heard
It gave a platform to youth with disabilities and allowed them to share their experiences – a platform we are too often denied. At virtual events, this does not happen often enough. As Robbie Watene, one of my fellow speakers and winner of the Her Abilities Award said:
It was really wonderful to engage with the attendees on such a universal topic as coffee.

Dr Robbie Francis Watene, Founder and Director of The Lucy Foundation, Aotearoa New Zealand
In the event, I shared my experiences as a Social Entrepreneur and my work for Light for the World, where we support youth with disabilities on the same journey.
Other brilliant speakers took a deep dive into their experiences as women in the workplace, as newcomers to the job market or as facilitators for inclusion in the world of work.
This work is about alliances, as the Austrian ambassador aptly said in his opening remarks.
If we collectively join forces, we can remove barriers, implement SDG 8 and achieve decent work for all, including for young people and persons with disabilities

Ambassador Alexander Marschik, Permanent Representative of Austria to the United Nations
And I strongly believe that a personal exchange like the one we had is the very first step of forging these alliances.
Sharing the Kenyan Experience
I also co-organised a Side Event together with the Kenyan Government and Sightsavers, two of our main partners. We presented how inclusive work has developed in the past years– despite setbacks during the COVID-19 pandemic.
By equipping people with disabilities with the skills, the social protection, the space and the recognition needed, they gain financial security that unlocks self-confidence and value to their community. In Kenya, we have seen significant progress, because Organisations of Persons with Disabilities, the government and expert NGOs worked hand in hand, even during the trying pandemic times.

Stephen Njenga, Country Director Light for the World Kenya
For me, it is so important in spaces like these to share the positives, the successes and the best practices. We need this motivation to carry our work forward.
On the last day of COSP, I also moderated a session organised by the United Nations Office in Vienna, the Zero Project and Light for the World. This event brought together Paralympians, businesspeople and development experts with disabilities.
It was a wonderful mix of experiences and an inspirational end to the conference.
My Take-Aways
As I close my laptop after a long week attending COSP, I have three main take-aways for the future:
Gender Awareness
There were scores of events on women and girls with disabilities. Intersectionality was discussed everywhere at COSP. The CRPD Committee, the main international body of experts overseeing the implementation of the Convention, comprises more female than male members. This is good news for the future.
Expertise Counts
At COSP, persons with disabilities and their organisations come together with governments and expert NGOs. They exchange ideas, build on their expertise and devise solutions. It was great to see that Light for the World is a leader in these discussions.
Back to Work
The discussions on economic empowerment of all persons with disabilities inspired me. We have gone a long way to improve inclusivity and accessibility of the job market and to lift persons with disabilities out of poverty. But so much remains to be done.
So, it's back to work for me and my colleagues at Light for the World.