From championing inclusion to creating award-winning programmes, we have much to be proud of this year thanks to the brilliant people we work with.
At Light for the World, long-lasting change is our goal. Our programmes around the world have sustainability at their heart. We don't just parachute into countries to offer hand-outs. We work alongside experts in-country to strengthen systems and make sure progress continues. We have amazing partners who help us drive this change, providing invaluable lived experience as well as technical expertise.
Sometimes, our work is celebrated by others. Acknowledgements are great – they tell us that whatever we're doing is working, and that we should redouble our efforts in that area to do even better.
This year, we've had a mix of both these things. Here are just a few highlights that show change is possible when we persist together.
1. We saw the first personal assistants to graduate from our innovative course in Uganda
In March, we celebrated our first cohort of students in Uganda to graduate from the certificate course in Personal Assistant Services for Persons with Disabilities. Developed by Musa Mwambu, a Light for the World Disability Inclusion Facilitator in the country, the course is delivered in partnership with Kyambogo University, in the capital, Kampala. This first group of 15 students enrolled in the course in 2021. "These graduates will be part of the disability support centre where they will support students and people with disabilities at the university," said Dr Okwaput Stalus, Dean's representative.
2. We made writing and reading accessible for students with vision loss in Burkina Faso
We donated learning and teaching materials for people with vision loss to the National Union of Burkinabè Associations for the Promotion of the Blind and Visually Impaired (see main image). The equipment included 150 Evo 10 laptops, 10 tablets, 20 orbit readers, and 150 solar chargers. With these resources, blind students will be able to record and transcribe their lessons, read novels, type texts, navigate and download documents and much more.
3. We enabled people with disabilities to shape disaster and emergency responses in Mozambique
Our 5-year inclusion programme in Sofala province – which is still recovering from the devastation caused by Cyclone Idai in 2019 – came to a close this year. As part of this programme, we co-ran "We are part of the solution", a project which put the lived experiences of people with disabilities and the elderly at its heart. Carried out in partnership with Butterfly Works, Inkdot and Forum of Mozambican Disability Organizations, the project allowed 40 people with disabilities and elderly workshop participants to document their experiences of being left behind in the humanitarian response to Idai and propose ways to make sure this doesn't happen again. Among the many related actions we took around this project was a training of trainers for the Ministry of Gender and Social Action on how to lead community-based programmes that support and champion people with disabilities to recover from humanitarian disasters and lead independent lives. Our approach to doing this was officially integrated into the government's Social Action Services Programme.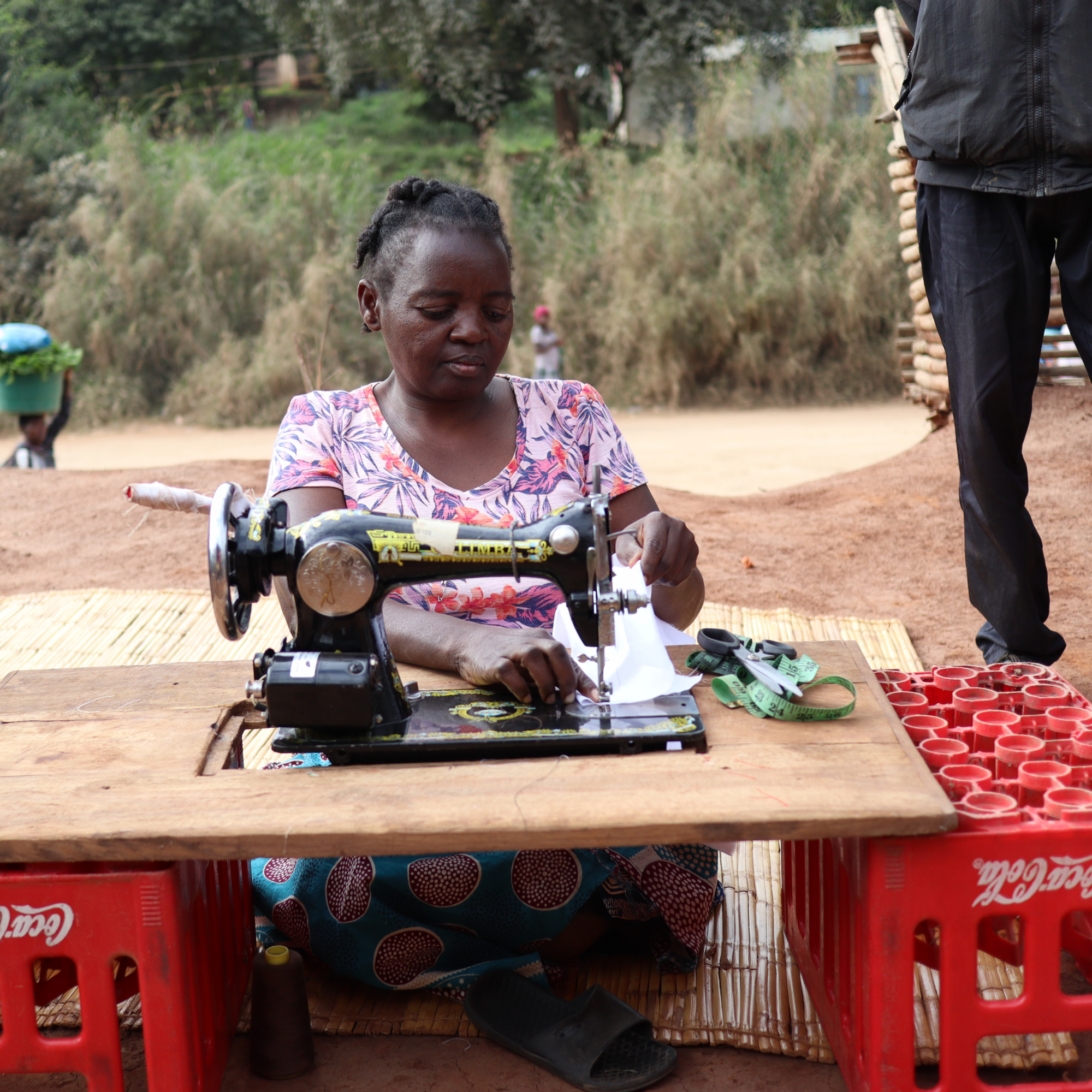 4. We helped make sexuality education training disability inclusive in South Sudan
South Sudan's Ministry of Education launched accessible comprehensive sexuality education training materials in March, with support from Light for the World and UNESCO. The training materials, which also cover gender-based violence, are now available in Braille, video and signed formats so that people with vision or hearing loss can engage in this training. The benefits of having accessible training materials go well beyond individuals. Not only do they contribute to enriching the workforce, but they also re-frame common views on disability, underlining that people with disabilities are experts and thought-leaders, too.
5. Our training manuals were adopted in Ethiopia and Cambodia
In January, the Ministry of Health in Ethiopia finally agreed to endorse our national school eye health manual for teachers. We developed the manual with our eye health partners, and together we lobbied the government for months to take it up. In May, PAFID (formerly Light for the World Cambodia) trained government officials on disability inclusion. The Cambodian government officially adopted that training manual for national use. PAFID will support roll-out of the training at provincial level. Ultimately, this training will help increase awareness of the needs and barriers facing people with disabilities, enabling them to live and work independently and with dignity.
6. We expanded our network of Disability Inclusion Facilitators
An impressive 116 people, all of whom have disabilities themselves, have been in training as Disability Inclusion Facilitators (DIFs) in 2022. DIFs do vital work, providing businesses and organisations with technical support to make their work opportunities, livelihood programmes, physical spaces and products more accessible for people with disabilities. Having disabilities themselves, DIFs are ambassadors, demonstrating that people with disabilities hold expertise and knowledge.
The course runs for between three and nine months and consists of training, work placements and mentoring. Ocotoko Mercy Monica, who gained her DIF certificate this year in Arua district, northern Uganda, said: "Throughout the fellowship, one thing that stuck with me was that we have to be solution bearers. Now that I am fully certified, I am more than ready to provide solutions to organisations and companies on how to be more inclusive of people with disabilities." Ayima Akibaru, a graduate DIF from Yumbe district, northern Uganda, added: "Before I joined the academy, I knew that I wanted to advocate for people with disabilities but I did not even know what to say and how to say it. Through the training, I gained facilitation skills which I have been using and I have seen some changes in some organisations and in communities in Yumbe."
7. We made 12.4% work in Uganda
We completed Make 12.4% Work, our disability inclusion initiative in Uganda. The four-year programme, which put young people with disabilities at its heart, has been a huge success with 151 development organisations, businesses, schools and a government ministry signing up to the programme as members. Not only has it trained a whole generation of young people with disabilities to become Disability Inclusion Facilitators (DIFs), but it has also opened up employment opportunities for people with disabilities.  
In total, Make 12.4% Work trained 3,231 people in businesses and development organisations on disability awareness and disability inclusive programming. The programme directly supported 468 people with disabilities through soft skills training, work placements and others, and led to our members reaching 7,087 people with disabilities with livelihood projects and skills development programmes. The project improved understanding and respect for the skills that people with disabilities bring to any workplace. It also raised the profile and confidence of people with disabilities.
"I had the opportunity to train mainstream organizations in disability awareness and disability inclusive programming," says Martha Awori, a graduate of the DIF programme. "This has really impacted my life and built my capacity, social skills, and the spirit of teamwork. I gained opportunities through my experience as a Resource Person like my current job as a Data Clerk with Rights North Lango. I feel the project has really worked for me, because I feel competent!"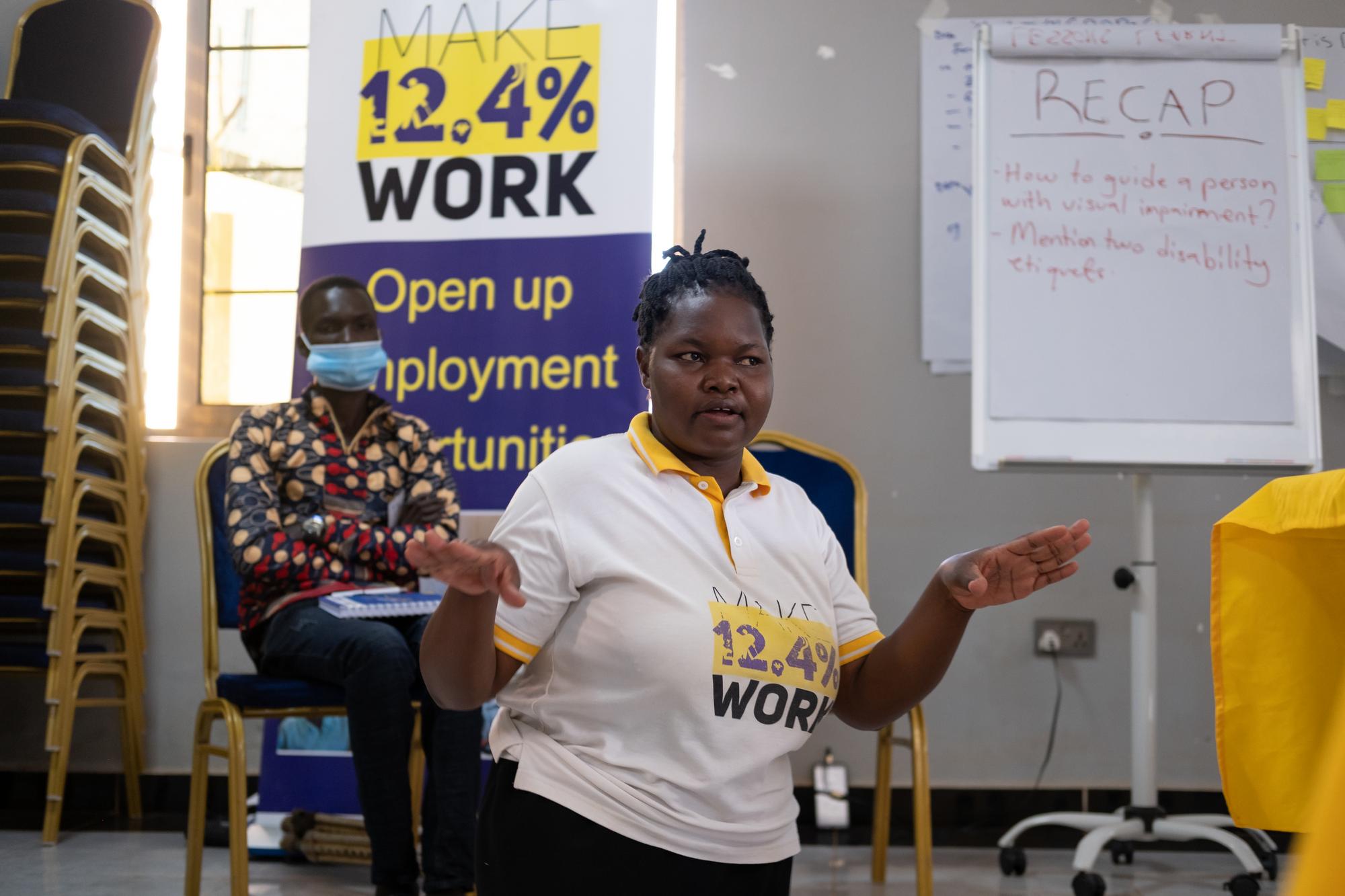 8. We kept advocating for a more inclusive society in Kenya
For the first time in 19 years, people with visual, intellectual, hearing and other impairments took part in the Standard Chartered Nairobi Marathon. Their inclusion in this event, which took place on 30 October 2022, was initiated by Light for the World Kenya. Participants came from our Futuremakers employability project which seeks to increase disability inclusion in the workplace.
A month later, Light for the World Kenya organised a breakfast for the private sector, together with the Kenya Private Sector Alliance. We wanted to raise awareness ahead of the International Day of People with Disabilities (3 December) by sharing best practice within the sector while also highlighting the high cost of exclusion to the private sector. More than 30 companies signed a commitment to be inclusive and agreed to review their progress in 2023.
9. We continued to push for disability inclusion in efforts to tackle climate change
Climate action is high on the agenda, yet the needs and experiences of people with disabilities – who too often bear the worst effects of climate change – are overlooked. Light for the World has continued to call for visibility of their concerns both at the international and national level. In May, the International Disability Alliance and Light for the World, organised 'Towards the Implementation of the Climate Charter: How to Include Persons with Disabilities?'. This event was part of the 'Humanitarian Networks and Partnership Week' in Geneva, Switzerland, where all key humanitarian organisations meet to discuss upcoming challenges. Light for the World signed the 'Climate and Environmental Charter for Humanitarian Organizations', initiated by the International Red Cross.
We also organised an event at COP27 in November 2022, when our disability inclusion expert Ambrose Murangira drew attention to Light for the World's SPARK programme. SPARK supports disability inclusion in rural transformation, with a specific focus on environmental sustainability and climate adaptation. And in Mozambique, we launched phase 2 of "We are part of the solution" (see no. 3 above) aimed at reducing the impact of climate change by strengthening the resilience of affected communities. Working in partnership with Red Cross Austria and with funding from the Austrian Development Corporation, we're making sure that the approach we take is both disability inclusive and gender aware.
10. We gained accolades for our people and programmes
We had a year of recognition, with awards for our disability inclusion work in many countries in Africa. Light for the World Kenya's InBusiness programme was named Best Social Enterprise in the country's National Diversity and Inclusion Awards in March. In May, our head of Rights and Advocacy, Elie Bagbila, was elected to the board of the International Disability and Development Consortium (IDDC), which aims to promote inclusive international development and humanitarian action, particularly for people with disabilities. The Optometrists Association of Uganda recognised our dedicated work on eye health in June, declaring it an outstanding contribution towards the development of optometry in the country. In December, EnableMe Kenya, which supports inclusion through providing technology, won a Zero Project Award 2023, as did our inclusive election guide developed in Burkina Faso.
Two Light for the World staff members were recognised internationally for the work they do. Jane Waithera is a business woman, writer and activist and is Kenya's best known advocate for people with albinism. She was featured on the international German public broadcaster DW's platform. Meanwhile Asunta Adut, a disability rights ambassador in South Sudan, received a scholarship for her work from the Norwegian Human rights Fund. She shared her moving, personal story with them, saying: "Today, I'm proud to be one of 32 Disability Inclusion Facilitators running training sessions and being role models for organisations across the country. When people see, for example, a blind person in our disability inclusion group leading a workshop using a laptop, that has a real impact.
"Because that's when they start asking how they can include people instead of hiding them away at home, like I once was."