Heat waves, floods, hurricanes and crop failure – sadly, climate events such as these are common in recent years. As we come up on World Environment Day, we take a closer look at the situation for people with disabilities in one of our focus countries, Burkina Faso
More than 40% of the population in Burkina Faso lives below the poverty line, i.e. on less than one dollar a day.
Philippe Compaoré, Head of Programmes for Light for the World in Burkina Faso, has been monitoring the consequences of the climate catastrophe for over 20 years. Heavy rains are followed by long periods of heat, which shorten the harvest time, reduce crop yields and drive up prices. Hunger is omnipresent.

The consequences are visible. One in four children in Burkina Faso is underdeveloped due to malnutrition. Out of 20.4 million people, more than 3.3 million are affected by food insecurity. The Covid-19 pandemic and the conflict in Ukraine have exacerbated food shortages, and there is no improvement in sight.
The consequences of climate change
For most of her adult life, 36 year-old Ella from Burkina Faso has made her living from agriculture. In the sweltering heat, she grows green beans and corn, which she sells at market. In recent years, however, prolonged droughts have made a successful harvest difficult.

People living in poverty are not only more affected by the consequences of climate change, but they are also more likely to have a disability, like Ella does. She contracted meningitis as a child and also has epilepsy. The disease has left her paralysed and dependent on a wheelchair to move around, and as a result she faces many barriers living in Burkino Faso.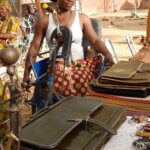 Luckily, Ella also has another passion: weaving. She makes fabrics with a loom and, thanks to a microcredit from a women's rights organisation supported by Light for the World, already has a small business where she can advance her production. This new business and some independence from agriculture has helped Ella continue to support herself, but many people in Burkina Faso are not so lucky.
Climate-friendly action strengthens people with disabilities
Our activities primarily support disadvantaged people who have been severely affected by the climate catastrophe. We strengthen them economically by giving them new skills so that they can make a living.

Philippe Compaoré, Head of Programmes, Burkina Faso
Climate-friendly action not only protects our planet, but also people with disabilities. In our agricultural projects, environmental protection is central, and our economic programmes give people with disabilities – who are particularly affected by the climate crisis – new perspectives. In this way, we work together to create a climate-friendly and inclusive world.